Bringing digital innovation to Scotland to create safer work-zones
Class One Traffic Management works with digital partner HRS to integrate digital technology into our traffic management plans through access to real-time information.
Safety is at the core of everything we do. As specialists in traffic management, we use the latest technological and digital solutions to ensure that each project is delivered efficiently and to the highest standards of safety.
Whether you're looking to improve safety, enhance customer service, reduce non-compliance fines for site clearance, improve operational management, reduce environmental impact, or increase reporting accuracy, digital and smart work zones can provide many benefits.
Determining which digital solutions are suitable for your projects can often be a daunting task. Our team of digital traffic management specialists will work with you to identify your needs and the right digital solutions that will deliver added value to your work zones.
Using a structured approach, our consultants collaborate with you to understand, define and solve your challenges with technology, digitisation, information management, Building Information modelling (BIM) and safety.
As specialists in the provision of digital assets and services to the rail, utilities, road and event industries, requiring temporary infrastructure support, HRS products can make your work zone safer, increase efficiency and productivity, and reduce risk to life.
We do this through:
Digitally enabled traffic management equipment for remote road closure monitoring
Advance warning systems to alert workforce on road breaches
Effective customer systems that deter the travelling public from entering restricted work zones
Remotely monitoring signs to ensure they are up-to-date and reduce non-compliance fines
To find out more about our digital services through our digital partner HRS, visit the HRS website.
Digital Services case study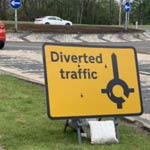 Gas Transportation Company (GTC)
When GTC needed to implement a road closure for a 6-week period whilst they installed gas supply to a new housing development, they turned to Class One to provide Scotland's first digital traffic management solution using Intelliframe®. By installing 36 Intelliframes® across the road closure, it allowed GTC to minimise the number of site maintenance visits while at the same time ensuring the safety of its workers, road users and local residents.
Download the GTC case study (PDF) to find out more >