Comprehensive traffic management services to the water, power, gas and telecoms industries and their suppliers
Class One Traffic Management is a key player in the utilities supply chain that delivers gas, water, telecoms and electricity to homes and businesses across Scotland. We have been providing bespoke traffic management solutions to utility companies for more than 30 years, ensuring the safety of their workers and the traveling public, and that works are carried out on time, efficiently and cost-effectively. Our clients include Scottish Water, Morrison Telecom and Gas Transportation Company (GTC).
Whether you are implementing long-term critical infrastructure projects with strict client KPIs or reacting to unexpected problems such as burst water mains or pipe leaks, Class One has the resources, responsiveness and expertise to provide traffic management plans to allow your works to take place and for your clients to meet deadlines and achieve their targets.
From consultation on project requirements to advising on possible options and implementation, we will work with you to identify the best traffic management configuration that delivers safety to your work-zone, captures vital site information, reduces costs and deters breaches into the traffic management area.
We were recently contracted by Morrison Telecom Services to provide traffic management services during the delivery of the government-backed R100 programme for the roll-out of ultrafast broadband to millions of homes and businesses across Scotland. The four-year contract will cover traffic management provision in Central and Southern Scotland while the broadband scheme is implemented. Find out more >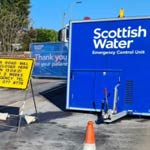 Scottish Water
Urgent repairs to sewerage works on a trunk road on the West Coast of Scotland had the potential to cause serious disruptions to local residents and HGV drivers. A flexible, responsive traffic management plan delivered by Class One TM on behalf of Scottish Water, George Leslie and Amey ensured disruption was kept to a minimum.
Download the Scottish Water case study (PDF) to find out more >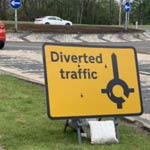 Gas Transportation Company (GTC)
When GTC needed to implement a road closure for a 6-week period whilst they installed gas supply to a new housing development, they turned to Class One to provide Scotland's first digital traffic management solution using Intelliframe®. By installing 36 Intelliframes® across the road closure, it allowed GTC to minimise the number of site maintenance visits while at the same time ensuring the safety of its workers, road users and local residents.
Download the GTC case study (PDF) to find out more >